Organizations learn only through individuals who learn… People with
high levels of personal mastery are more committed. They take more initiative.They have a broader and deeper sense of responsibility in their work.They learn faster. [Senge, P.M., 2000.The Fifth Discipline, pp. 129, 133]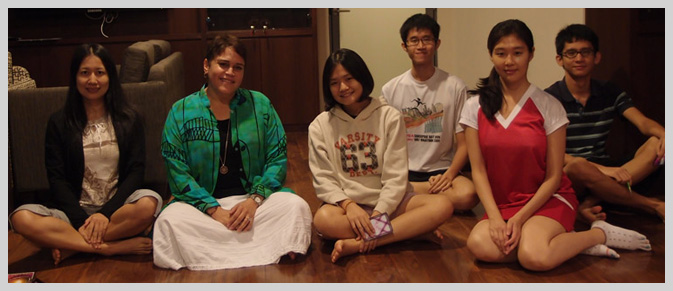 At the University of Cape Town Graduate School of Business, I facilitate personal mastery workshops for corporate clients and the Executive MBA Program.
While in Singapore, I facilitated meditation for mental wellness and personal mastery sessions for students and staff at the National University of Singapore (NUS) and for members of the community. My work at NUS reached more than 1,000 people (students and staff) and in 2011 the university recognized my contributions with the Wellness Ambassador Award.
I offer customized training for organizations—from half-day single or multiple sessions to full day workshops in the following areas: Mindfulness, conscious communication, emotional intelligence,  identifying one's purpose and vision, identifying and questioning assumptions and unsupportive mental models, achieving greater self-awareness, developing greater integrity, and  enjoying being of service to others. Other workshops explore our "shadow" selves (including our projections and how these projections impact our relationships at work and in our personal lives). These workshops include theoretical/conceptual components in an experiential setting.
List of workshops
Introduction to Personal Mastery
In this workshop participants are introduced to the value that personal mastery can bring to their lives as leaders and individuals. Through experiential exercises, participants are guided to journey within themselves and start a process of introspection and reflection that examines (and questions) their perceptions, assumptions, and beliefs.  Participants are also guided to identify their personal mission and vision. A powerful and thought-provoking workshop. (7-10 hours)
Mindfulness and Stress Reduction
Modern life can be taxing and take a high toll on our health and well-being. This workshop uses mindfulness as a central theme to enhance our self-awareness and lead us to a way of being that is more balanced, gentle and kind. Through experiential activities it teaches how to make mindfulness a part of our lives so we can reduce stress levels. (9-12 hours)
Conscious Integration [Shadow Work]
As successful leaders, employees, friends and even life partners, we seek to project an image/persona of efficiency, diligence, integrity, goodness, and success. But often, underneath this public image, are aspects of ourselves we have cast aside. In many instances we are no longer aware that we have disowned or rejected these aspects of ourselves. In this workshop we take a close look at our personal traits and behaviours (the bad and the good) and identify which ones need to be embraced/integrated or toned down. The result of this integration or is greater self-awareness, a healthier sense of who we are, and a more authentic way of relating to others. (12 hours)
Conscious Introspection
Our way of being is a reflection of our inner conversations and our beliefs/mental models. This  workshop explores how labels, rules and beliefs impact our lives (personally and professionally). Through conscious reflection, participants explore how gratitude, self-compassion, and recognition of our own and other people's gifts can help us become more self-aware and emotionally intelligent leaders capable of having more harmonious relationships with others.  (9-12 hours)
Conscious Questioning
This workshop connects our mental models or false beliefs with the "voices of judgment" that comprise most of our inner conversations. It also teaches ways of consciously questioning our thinking (rational, intuitive and emotional) so we can deconstruct our assumptions and false beliefs and from that space of greater awareness choose (create) a different "reality" that is more in tune with our personal vision.  (9-12 hours)
Conscious Communication
This workshop explores how the way we speak impacts our way of thinking, feeling, and meaning-making and how this, in turn, constrains the way we see the world, act and relate to others.  (9-12 hours)